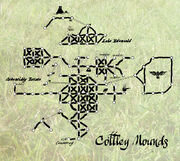 Cottley Mounds is located north of Moorgate by Timberwood forest and the Dark Blizzard Pass. The monsters are generally weak against the ice element and fire resistance is recommended.
Stunners in the area include Small Vale Dragons, Giant Spiders, and Mouthers.

There is a safe haven area where monsters will not attack you in Cottley Mounds. This is also the spot you will want to remember on your compass for quick teleporting. The room description is as follows:
In a wooded glade Dappled light filters through a canopy of branches overhead. Woody shrubs, perennials and annuals elbow each other for attention. You find this glade to bring marvelous healing benefits to your mind and soul.
Community content is available under
CC-BY-SA
unless otherwise noted.