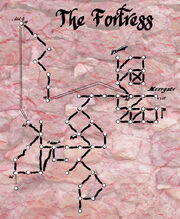 About
The Fortress is a low level hunting area located within Moorgate designed to hone new players' combat skills.
Area Details
Sub-areas
Mob List
Ogre
Orc
Goblin
Hob Goblin
Sick Goblin
Kobold
Beaten Kobold
Silver-backed wolf
Notable Features
Landmarks
Mobs
Technical
Hunting Technique
Ogres have high HP and hit hard.
Wolves and Sick Goblins are slow moving.
Be mindful of Orcs and Kobolds which are ranged attackers.
Speedwalks
,9s3w

Macros
Slow lure, double room attack, prioritize Orcs, gold harvesting
g gold;;ch orc;;ch;;e;;ch;;w

Community content is available under
CC-BY-SA
unless otherwise noted.